In this series, we speak to business owners on their digital journey and life as an entrepreneur—from the challenges they faced to the lessons they learned—and their experience-based tips to sustain a business in today's digital world!
Aakash Kejriwal had his 'eureka moment' during a trip to Mauritius, where he saw sugarcane being grown in abundance, and a friend made him realise it is one of the easiest crops to regrow. Not many would go back and think about this little anecdote, but Kejriwal did his research on the various uses of sugarcane's by-products, and discovered that it was possible to make sturdy, leak-proof food containers from this humble raw material. That's when the idea of EcoHac was born, "Living in this fast-paced world, I realised that we are all slowly moving towards a consumption-focused easy lifestyle. While many people do care about the environmental impact of their consumption pattern, there was a gap in Food Service consumable that needed to be addressed in an extremely quick manner," he says. Thus, he launched EcoHac to find a sustainable solution to the food disposables requirement. His brand uses completely biodegradable and easily replenishable raw materials which are fully compostable within 90 days. "It is my small contribution to the society, a gesture of gratitude to mother nature and a small effort to save landfills and oceans from being polluted with more plastic/aluminum waste for hundreds of years," says Kejriwal. Here, he talks more about his mindful moves and how taking EcoHac online was another step towards a more sustainable business.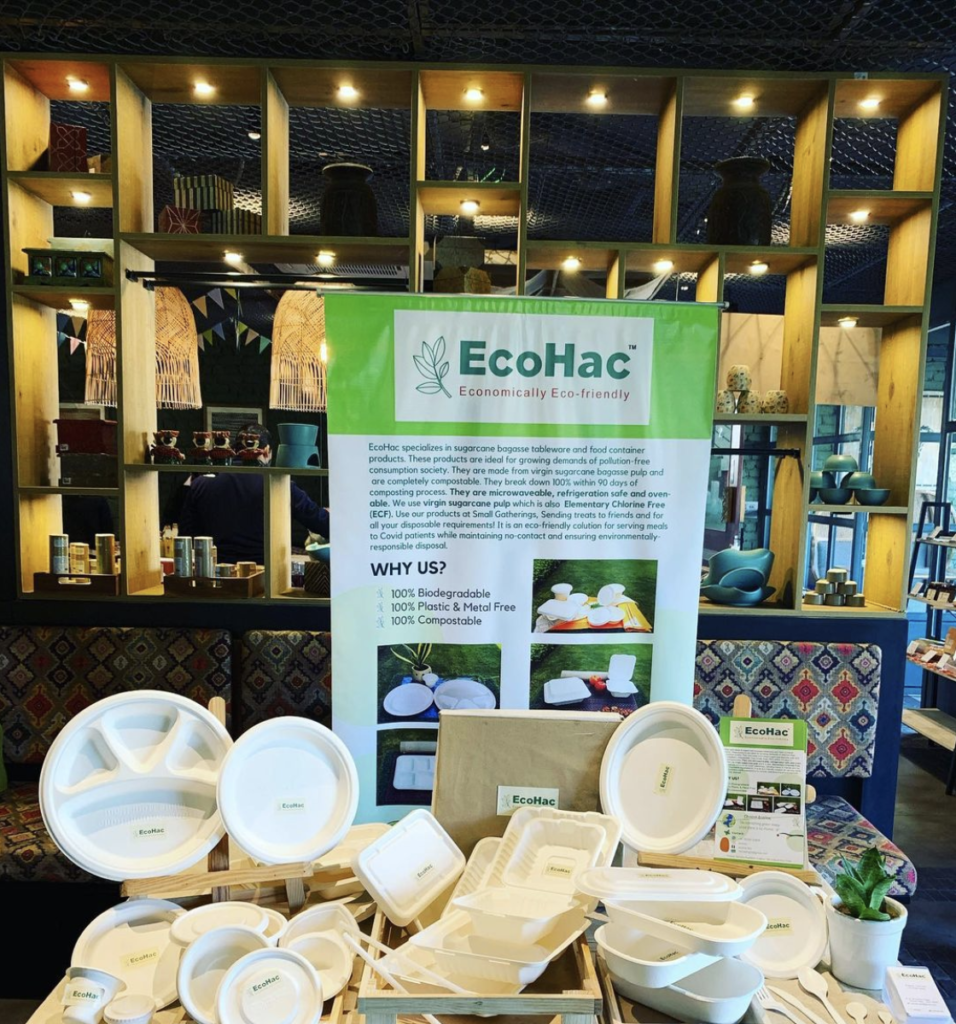 What do you love about what you do?
"Our products come from the earth, and go back into the earth as they are compostable within 90 days. Sugarcane is one of the easiest crops to grow and re-grow, and has multiple uses, out of which the by-product is used for manufacturing our Ecohac products. Do you know that all of the single-use plastic ever made on this planet still exists in landfills/oceans? Infact, since the lockdown, so many people have started home-composting and Ecohac products have been successfully disintegrated into their next sustainable use in the form of compost. The 'big moment' for Ecohac was when certain friends who are environmentally conscious became brand ambassadors of their own accord—spreading the message of the importance of using Ecohac products to reduce each person's carbon footprint."
What was your biggest challenge as an entrepreneur and how did you overcome it?
"The very first challenge for me was to convince consumers that this superior eco-friendly product is more expensive to produce as compared to its cheaper harmful alternative like plastic, hence, some of that cost would be an investment from the consumers towards building a better environment for the future generations. Initial resistance from restaurants, caterers and consumers was high and it took a lot of convincing to make them switch to a biodegradable alternative. But I took it upon myself to explain to them the harmful effect of food being cooked in aluminum and eaten with plastic. Once this education was imparted, the conversion became quicker. We also developed cheaper alternatives with Paper Pulp, which are still biodegradable, but more competitively priced due to lower raw material costs. Also, as is with every new product which is developed, we needed to contently improvise it in order to suit the market needs, which is an ongoing effort at all times. Luckily, we have been very robust and have now added over 60 items to our product offering to be a one-stop-solution for all food packaging/ disposable needs."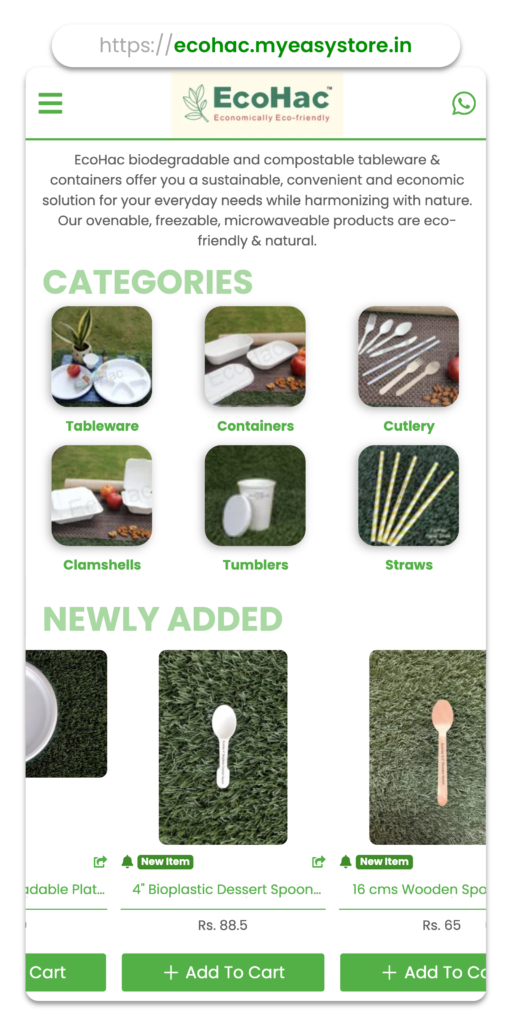 How has going digital with your business helped you?
"In the year 2021, the survival guide for every business is 'Go Digital or Go Home'! Being present online is not a choice, but in fact a basic requirement for a business like ours. Being easily available across multiple online platforms like your website, Facebook, LinkedIn, Instagram & Whatsapp has propelled our sales funnel and helped generate leads and service orders at lightening-pace. During the Pandemic, when many customers had isolated Covid patients at home, they would call us at odd-hours for urgent requirements and we have asked them to order online and shipped orders as early as 7am to help with their urgent needs. Having a clear online presence with neatly outlined product description, photographs and details helps people understand the product in one go and makes the entire ordering process seamless. Vendor tie-ups with shipping companies and an efficient inventory management and billing system makes working very hassle-free and smooth."
Why is it important to have your own online store?
"Our own online store has given us a quick, well-displayed and convenient medium for order-securement, client data-management as well as helped us study buyer-behavior. Though multi-vendor platforms are necessary in today's times, sometimes, over-crowdedness on these makes visibility decline. Hence, having our own online store is of pertinent importance."
What are the key lessons you've learned since you started your entrepreneurial journey?
"Ecohac for me has been a dream that was shared by me and my late father. In being involved with this product, I have been fortunate to be able to explore the multitude of options and choices we humans have in conserving the environment and contributing in our small way to the regeneration of mother nature. During the lockdown, our social media was filled with beautiful skyscapes, new plants blooming, animals venturing out into beautiful habitats… almost like a metamorphosis that taught us how nature was healing from the unruly blows that mankind has succumbed it to. This new realisation has made me want to passionately spread this message of eco-conscious amongst today's children and youth, as they are the generation who can completely adopt a new lifestyle and help maintain the balance of nature. Thus, my wife Sweta and I have started speaking to children about the urgent need for sustainable living and once schools re-open, we hope to meet them in person and educate them further. My biggest take-away in this journey has been that humans have always made the excuse of rapid industrialisation to forgo their responsibility towards nature. However, if we move hand-in-hand with the environment, growth can still be phenomenal, with minimum side-effects to flora, fauna and mankind."
Your advice to business owners in the same field as you?
"Curiosity. Social entrepreneurs must nurture a sense of curiosity about people and the problems they face.
Inspiration. In order to design effective solutions, social entrepreneurs must be inspired by the people and problems they encounter.
Resourcefulness. One must utilise all networks and resources to achieve their desired goal. Never feel shy of hearing a 'No'.
Pragmatism. To challenge the usual and think outside the box.
Adaptability. To changing circumstances/ market needs.
Openness to collaboration, as collaborative growth always yields better and quicker results.
Persistence and 'Never Give Up' attitude."
What's your favourite product in your store?
"Clamshell Boxes made from sugarcane bagasse, as they have a variety of uses and are very versatile, and completely new in India."
Your tips for successfully running an online business?
"1. Picture quality should be superior
2. Items should be clearly and neatly displayed with simple descriptions and product details.
3. Strong social media presence is a compulsion.
4. Blogger-tie-ups help in reaching a larger consumer base.
5. It is important to be present across all social-mediums, not just 1 or 2.
6. Consistency of posting is essential.
7. Quality should exactly match the displayed images.
8. Customer-service should be prompt, clear and consumer-centric."
Who inspires you?
"Kumarmangalam Birla, Steve Jobs, Ratan Tata, Azim Premji, Sadhguru"
Visit the EcoHac store at https://ecohac.myeasystore.in/.
Empower your business—start your digital journey with MyEasyStore today.