To start your online grocery store today is not something that should scare you. In a world where in a click of a button you can order yourself almost anything you fancy, it was only a matter of time when the basic necessities would need prime space online. Groceries—daily household items—will never not be in demand. Selling them online doesn't need to be difficult. And selling them from your own ecommerce website—shouldn't scare you either. First, identify your needs and plugs to meet those solutions online, and once you're set, you'll never turn back. Here is a simple and important checklist to setup your online grocery store easily, and in under Rs 1000.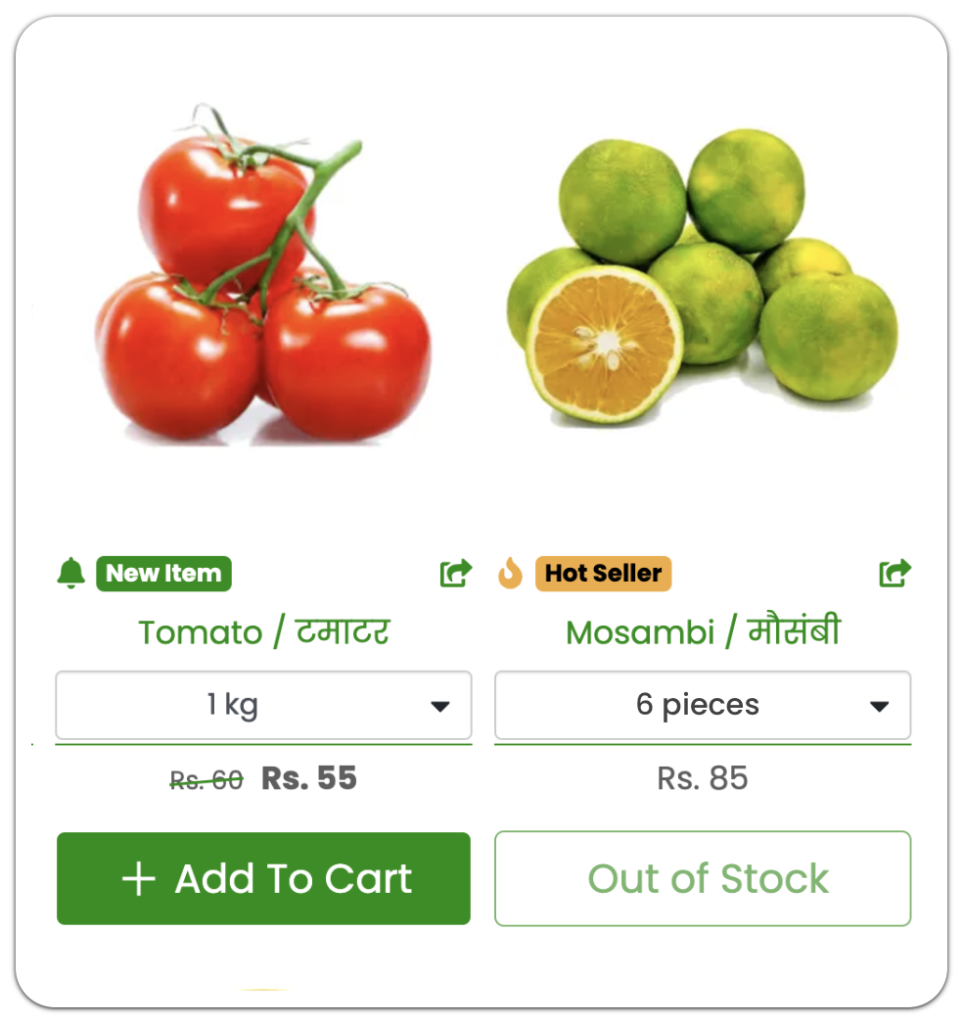 Order collection
This is the first touchpoint between your customer and your grocery store, and it needs to be smooth. Your groceries and your store should be available to your customer at any point they desire to buy it. You can create your online grocery store within minutes using MyEasyStore.in without spending heavily (our plans start at Rs 399 only). Simply create a catalogue of all your fruits, vegetables and other products, add descriptions, discounts and prices, and let your customers place the order online directly to you. You can even add product variants by size or quantity, and do stock management.
Payment collection
Giving your customers the ease of paying online and the choice of any payment mode they are comfortable with will help make their customer experience seamless. MyEasyStore has integrated with multiple payment providers like Razorpay, Cashfree and OpenMoney, all of which support credit cards, debit cards, UPI, netbanking and wallets. You can also enable cash on delivery orders by offering your customers the option to either pay online or via alternate modes.
Order fulfilment
Who doesn't like receiving orders on time or before? Research about your delivery location and the radius you wish to serve can provide customers with same-day delivery or next-day delivery. Here's how MyEasyStore makes it easy:
Experience the ease of delivering orders in real-time directly from your order dashboard using our hyperlocal delivery partners such as Dunzo, Borzo (formerly WeFast) and Shadowfax. All you have to do is choose your delivery partner and keep your order ready, they will pick up the order and deliver it to your customers' doorstep.
Delivery charges can be set via distance or pin codes that get added to your customer's cart automatically during checkout.
Delivery radius can be set in advance on your online store wherein if a customer tries to order from outside a location you are not able to deliver, they simply won't be able to place the order.
Additional features to streamline your operations
You can download item wise reports daily. This also helps if you're following the dropshipping business model, where you collect orders during the day and place one bulk order with your grocery supplier at the end of the day for the next day.
You can receive WhatsApp notifications on every order so you don't need to always be active on your website dashboard to know if you got an order.
Have a lot of products to individually list in your store? Take advantage of MyEasyStore's bulk upload tool that lets you upload 1000s of products in one go via an excel sheet with supported images for your products.
Pro Tip: Know your target audience
Based on your location and surroundings, identify the kind of products that are high in demand with customers you wish to target, and keep them stocked!
Want to experience what it's like to have a fully setup online grocery store? Visit our demo store here.